Home
The website for the combined parishes of Marbury, Tushingham & Whitewell under our Priest-in-Charge, Veronica.
**************
PUBLIC DEFIBRILLATOR TRAINING
15th March 7:00pm Parish Rooms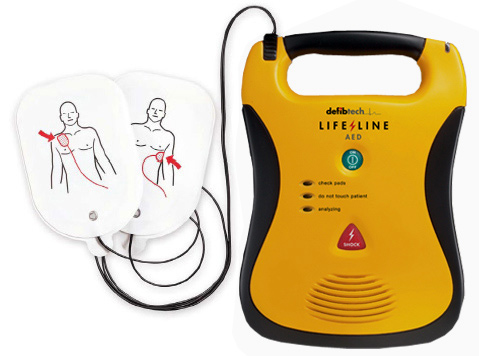 There will be a training session for all members of our community on how to use the new defibrillator that has been provided outside the Parish Rooms by your Community Council, working with the Parish Rooms team.  The session will be led by the Welsh Ambulance Service. It is free to everyone and will include general guidance on resusitation. We encourage everyone living in Whitewell and regular users of the Parish Rooms to participate.  THIS TRAINING COULD SAVE A LIFE.  Although the session is FREE, please notify Andy Watts on 01948 780348 or email chris.smith@videoactive.co.uk if you intend coming to give us an idea of numbers.  Refreshments will be provided.  
**********************
ELECTORAL ROLL – WHITEWELL
Don't forget that you need to be on the electoral roll in order to take a fuller part in the life of the church, including voting at the APCM.  You can add your name to the roll at any time, and there's no fee for doing so.  For Whitewell, the details of how to do it have just been updated.
*********************
Lent 2018
Everybody is most welcome at our Lent Lunches 12 – 2pm
21st February  Jane Osmond
3rd March  Julia Neale
21st March Liz Swift
27th March Liz Nunley
St David's Day Lunch Sunday March 4th, 1pm at Iscoyd, tickets from Carolyn Wort 01948830364
Also, you may be interested in the 40Acts website:
https://40acts.org.uk/   also on Facebook for those of you who use it!
 This year, beginning on Tuesday 20 Feb and for the four subsequent Tuesdays in Lent, the Rev Mike Rogers will lead a series of talks on the Lord's Prayer – praying it, meaning it, living it.  As part of this, there will be an opportunity to experience what will be for some, a different way of praying, namely contemplative prayer.  So often, our prayer consists of us talking to God; how often do we give God a chance to reply? Contemplative prayer involves just that, listening in silence.
Each session will be held in St Chad's Tushingham at 7.30pm, will last about 30 minutes and is planned to take the form of a 10 minute address from Mike followed by 10 minutes of contemplative prayer and ending with the office of Compline, a short said service which is used to end the day in a religious community.  We shall then leave the church in silence reflecting on what we have heard and on what we have said.
You are most welcome to join us for all or any of the sessions.
*******************
 "A History of Malpas"
with David Hayns
 Iscoyd W.I presents "A History of Malpas" with David Hayns on Thursday 12th April at Whitewell Parish Rooms at 7.3opm.  Light refreshments. Pay on the door. £3.00. All welcome including men
**********************************
TUSHINGHAM SCHOOL OUTSTANDING
It's Official !  In it's recent Ofsted Inspection, Tushingham School scored OUTSTANDING in every area of the in-depth inspection.  Congratulations to the Head, Mrs Kath Shephard, to the school staff who have all worked so hard for this, and of course to the pupils. see the detailed report.
********************************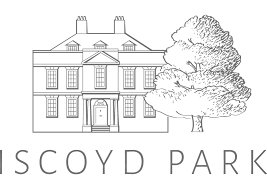 St David's Day Celebratory Lunch at Iscoyd Park
Sunday March 4th, 1pm in the Marquee
In aid of St Mary's Church Whitewell
******************
 CONGRATULATIONS VERONICA
At a truly joyous licencing service on Tuesday 28th November 2017, Veronica was granted her Licence as Priest-in-Charge of our combined Benefice.  The licence was granted by The Suffragan Bishop of Birkenhead, The Right Reverend Keith Sinclair representing the Bishop of Chester, in the presence of the Archdeacon, the Venerable Dr Mike Gilbertson,  the Rural Dean The Reverend Canon Ian Davenport QHC and the congregation drawn from the combined Benefice, led by the Church Wardens. Other members of the clergy from the deanery and neighbouring churches were also present as were Nigel and members of her family.  Afterwards, the congregation enjoyed a magnificent spread in the village hall kindly provided by the good folks of Marbury, thank you.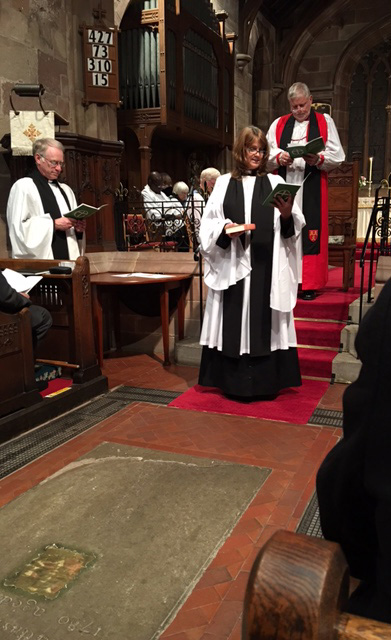 The picture above shows Veronica making her Declaration to the people of her Acceptance of Office, before the Bishop.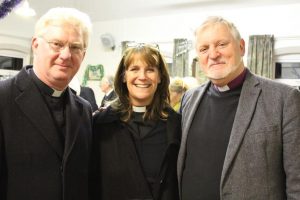 Rev'd Ian Davenport, Rev'd Veronica Green and Right Reverend Keith Sinclair
Congratulations Veronica.  No one could put our feelings better than Mike Valentine, representing Cheshire non-conformist churches who in welcoming Veronica, caught the mood of the evening when he misquoted the carol, proclaiming "Hark the Herald Angels sing, Veronica Green you're  just the thing."  You certainly are! 
**********
16239total visits,53visits today