Home
The website for the combined parishes of Marbury, Tushingham & Whitewell under our Curate-in-Charge, Veronica.
Parish Rooms WiFi
The WiFi in the parish rooms is working again.  The password is:  parishrooms  All one word, all lower case
VERONICA'S LICENCING
The decision has been made, with the full support of all three parishes, to promote Veronica from a Curate, to a Vicar.  The licencing service will be at 7:30pm on 28th November at St Michaels & All Angels, Marbury.  Hearty congratulations to Veronica from all of us.  Veronica is to be known as our Priest-in-Charge.
Christmas Party, Tushingham
Confirmation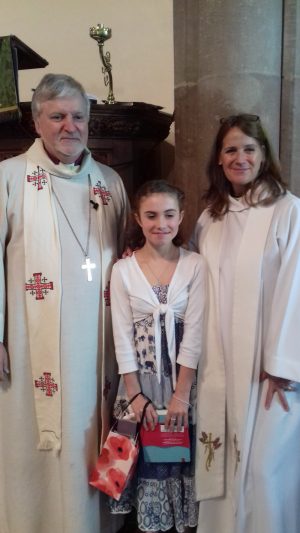 Congratulations to the five people confirmed into our Christian Faith by The Bishop of Birkenhead, Bishop Keith, in October.   The candidates were Emma Ralphs, St Mary's, Whitewell, Lizzie Martin – St. Mary's, Whitewell, William Snaith – St. Chad's, Tushingham, Eleanor Snaith – St. Chad's, Tushingham,  & Debbie Nichols – St. Chad's, Tushingham.  Pictured are Bishop Keith with Emma Ralphs and Veronica.
9807total visits,29visits today