Home
The website for the combined parishes of Marbury, Tushingham & Whitewell under our Priest-in-Charge, Veronica.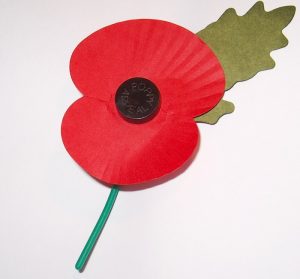 100 years since Armistice Day
There is to be a week of events in all three churches in the Benefice and further initiatives are planned at St Oswald's, Malpas as well as by neighbouring churches.
At Marbury, to commemorate this 100th anniversary, we are making a display of 100 Knitted Poppies at the back of the church for Remembrance Sunday and we are asking volunteers to knit poppies. There are copies of a pattern in the church porch – please take one. We ask that these lovely poppies are placed at the back of church, by the Remembrance Book, at the beginning of November.  There will be a Service of Remembrance in church at 10:45am on 11th November
At Whitewell, the week will start on All Saints Sunday, 4th November at 11.00 a.m., with a special "All Saints and Remembrance" Communion Service. On Remembrance Sunday, 11th November, there will be a Remembrance Service and minute's silence at the War Memorial, Iscoyd, commencing at 10.45 a.m., followed by refreshments in Church.
At Tushingham, in the evening of 11th November, St Chad's  are planning a special "Beacon Service" which will be held at Yew Tree Farm (Post code SY13 4QS, near the old Blue Bell Pub) commencing at 18.30 p.m. with the lighting of a historic Beacon at 19.00 p.m.
At St Mary's we are keen to hear stories and anecdotes about Parishioners' forebears; not just the fallen, of Iscoyd, but the fallen related to our current parishioners who may not have come from this area.  We also want to know about those not killed in action, but who served in the armed forces or support services, as well as those who did their essential bit in reserved occupations such as farming – all of whom will have had stories that may have been passed down and may easily be lost. Memories and stories can please be sent in any format to Mrs Hazel Trevanion (contact details below) and, if possible, any memorabilia, photographs etc. These will be photocopied or photographed and returned to ensure safekeeping. Any contributions should please reach Hazel by Sunday 28th October, and may be preserved as an archive or used to create a commemorative exhibit in church for display during the week.
We are keen to know if anybody has recollections of the Iscoyd & Whitewell fallen, as listed on the War Memorial. Anyone with information is invited to contact Hazel or Philip Godsal.
Mrs Hazel Trevanion, School Bank House, Iscoyd, SY13 3AR   Tel 780221 Email h.trevanion@btinternet.com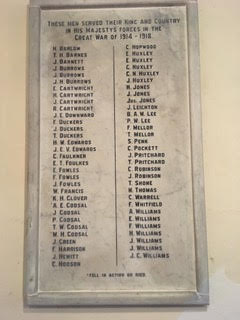 The St Mary's Whitewell War Memorial Plaque
29263total visits,21visits today