Home
The website for the combined parishes of Marbury, Tushingham & Whitewell under our Priest-in-Charge, Veronica.
 MARBURY MEETS
Sunday, 16th September,
between 3.00 and 5.00 p.m. at Marbury Village Hall.
Please come and find out what happens in Marbury – you'd be surprised!
There will be representatives from many organisations.
Admission is free and there will be refreshments served.
 Everyone is welcome; if you have a "new" neighbour do please pass on this invitation to them.
 If you have lived in Marbury for some time you will want to see the W.I. photo albums – which have been compiled over many years – yours may be a "famous face"!
********************************
Harvest Supper and Auction
St Michael's are holding our Harvest Supper on Monday 24th September 2018
At Marbury Village Hall at 7.30.p.m.
Tickets are available from Diana Thomas, Jane Lunt and Members of the PCC. Adults £7.50 Children£5.00
Popular David Fisher is coming to conduct our Auction. We are asking for any surplus Produce, Jam's Chutney Marmalade, Eggs Flowers Cakes or absolutely anything that is in good condition e.g. small household items, toys etc.
If everyone brings something it will make for a fun evening while raising funds for St Michael's Church
Any further information Tel.
Diana Thomas 01948 663738  Jane Lunt 01948 662910
TUSHINGHAM SCHOOL OUTSTANDING
It's Official !  In it's recent Ofsted Inspection, Tushingham School scored OUTSTANDING in every area of the in-depth inspection.  Congratulations to the Head, Mrs Kath Shephard, to the school staff who have all worked so hard for this, and of course to the pupils. see the detailed report.
******************
 CONGRATULATIONS VERONICA
At a truly joyous licencing service on Tuesday 28th November 2017, Veronica was granted her Licence as Priest-in-Charge of our combined Benefice.  The licence was granted by The Suffragan Bishop of Birkenhead, The Right Reverend Keith Sinclair representing the Bishop of Chester, in the presence of the Archdeacon, the Venerable Dr Mike Gilbertson,  the Rural Dean The Reverend Canon Ian Davenport QHC and the congregation drawn from the combined Benefice, led by the Church Wardens. Other members of the clergy from the deanery and neighbouring churches were also present as were Nigel and members of her family.  Afterwards, the congregation enjoyed a magnificent spread in the village hall kindly provided by the good folks of Marbury, thank you.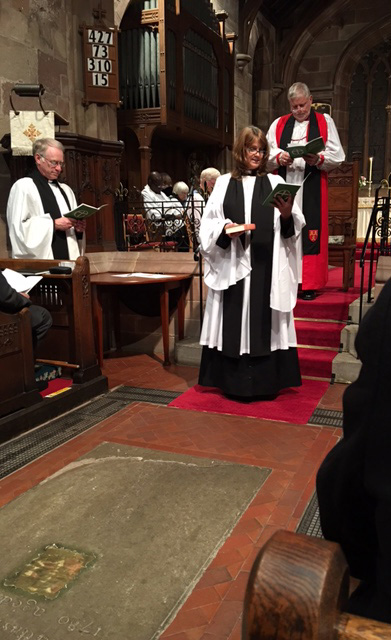 The picture above shows Veronica making her Declaration to the people of her Acceptance of Office, before the Bishop.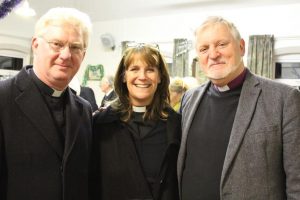 Rev'd Ian Davenport, Rev'd Veronica Green and Right Reverend Keith Sinclair
Congratulations Veronica.  No one could put our feelings better than Mike Valentine, representing Cheshire non-conformist churches who in welcoming Veronica, caught the mood of the evening when he misquoted the carol, proclaiming "Hark the Herald Angels sing, Veronica Green you're  just the thing."  You certainly are! 
**********
26636total visits,30visits today